S a t u r d a y , A u g u s t 7 t h , 2 0 1 0
Evolution happens.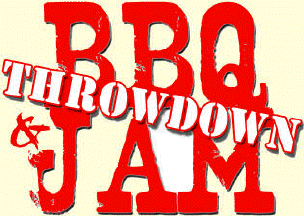 In 2006 the Holy Smoke Backyard BBQ Cook-Off was formed to help 'backyard' barbeque cooks learn more about competition cooking. This fun event was a fundraiser for St. Theresa of Avila Elementary School in Salem, IL.
Fun was had by all.
In 2007 the Illinois BBQ Society played a bigger role in helping this contest grow to include more teams and an Q&A appearance by 8 Time World BBQ Champion, Mr. Chris Marks of 3 Little Pigs BBQ.
Even more fun was had by all.
2008 & 2009 saw the event relocated just 5 miles away to the quiet little town of Alma, Illinois. Nestled in the countryside of this quaint area, the bar-b-que event is now surrounded by the beauty, and serenity, of the Orchard View Winery. This event grew to include a 5K Run/Walk, Dessert Contest, and Amazing Music for nearly all genres.
2010 brings even MORE EXCITEMENT as this staple of the barbecue contest community has been renamed the BBQ Throwdown & Jam (to better convey the excitement of the event), and will continue to feature a 5K Run/Walk, Dessert Contest, Outstanding Music, and (newly added for 2010) Live Outdoor Cooking Demonstrations by Multi-Award Winning BBQ Cooks!
Check out the All-Star 'Jam' Line-Up...
See you in August!